King Of The Hammers 2012 - The Toughest One Day Offroad Race In The Wo
Posted 04 February 2012 - 11:12 AM
Click here te read press release on Ultra 4 News
http://ultra4racing....e-hammers-2012/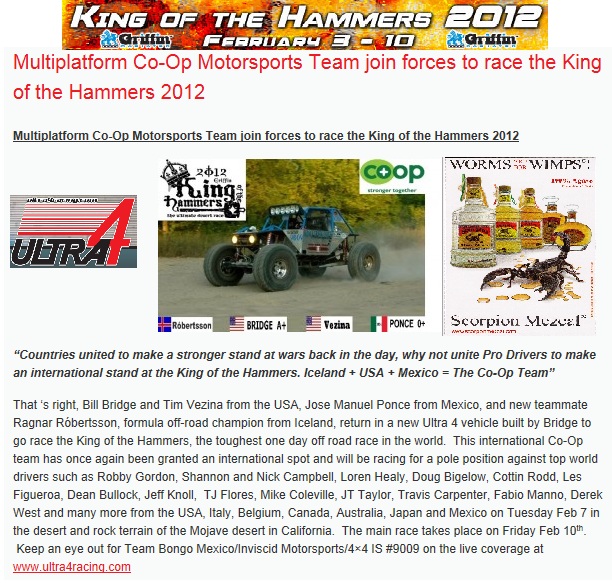 ---
Posted 06 February 2012 - 06:03 PM
The Bongo has arrived to KOH!
Click here to read press release on 4x4 Offroads of ICELAND
http://www.4x4offroa...co-op-team.html
http://ultra4racing.com/live/
---
Posted 15 February 2012 - 11:02 AM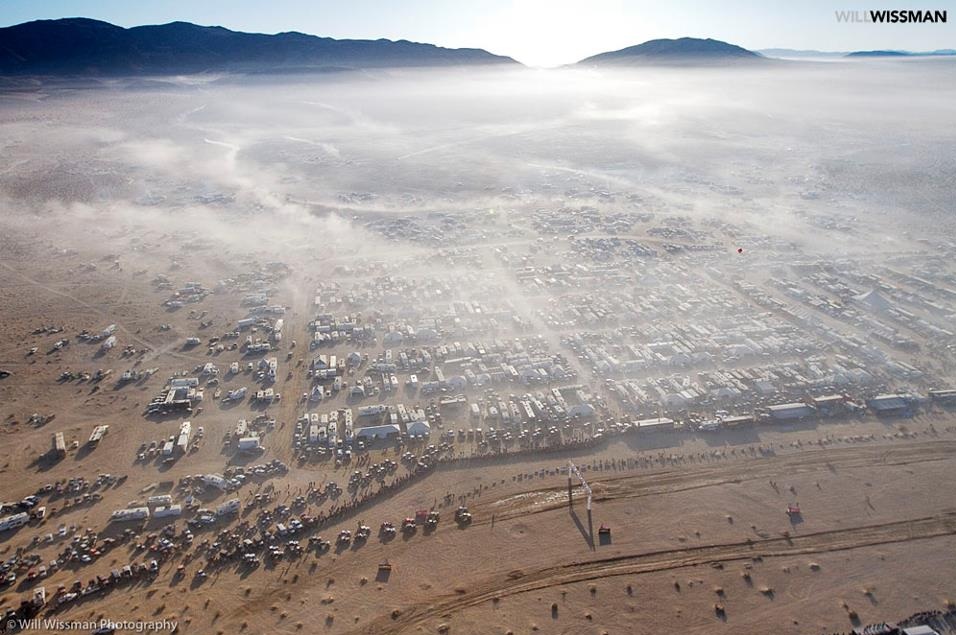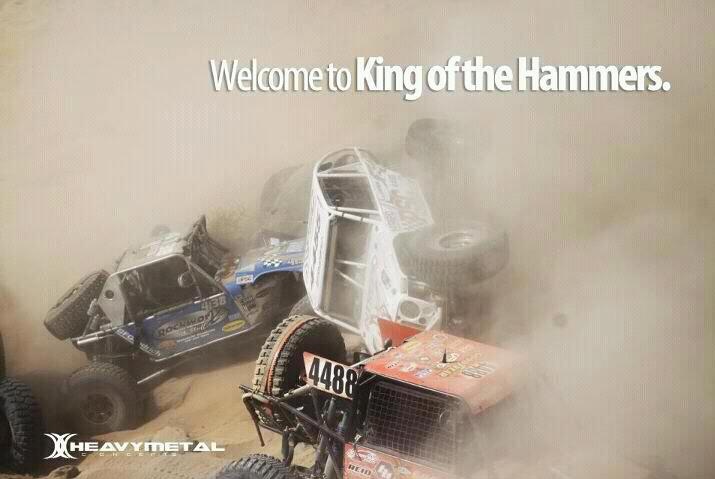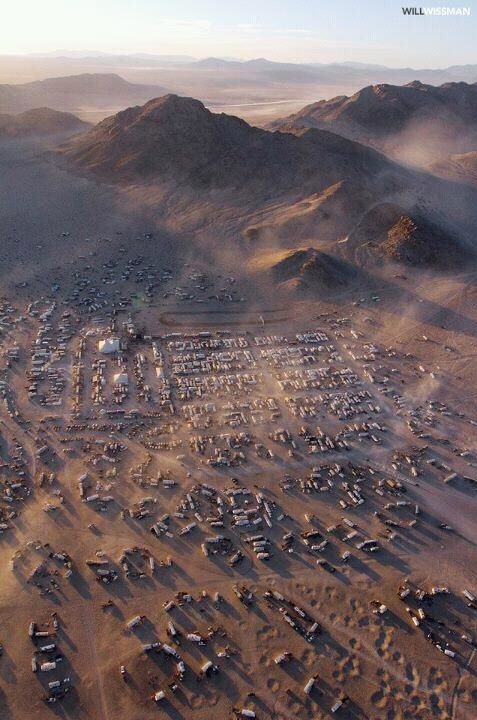 We are just going to pretend this never happened:) It was all an illusion with a week of fun and business out in the Mojave Desert. As the driver of record for the race, I raced with my WRC 2010 Co Driver and KOH LCQ 2010 teammate to take on the challenge of KOH and finish it once again. Well we got hammered:)
The Pole Position on Tuesday was a blast and Bill Bridge and I tried our best and raced well due to the circumstances that a previous team left for us, when they did not finish and left a nasty hole at the Gate Keeper rock on Chocolate Thunder rock crawling stage early Tuesday morning. Ragnar Róbertsson drove the race car built by Bill Bridge and gave us some great advice. Kristen Bridge, Dana Waxler, and Holly and the rest of the Detriot Rock City crew, Carlos Casanova and Fred Riojas kept the fiesta and bbcue grill strong while Ponce worked his magic with new and old partners to acquire gear still needed to race on Friday while promoting his team and partners all week long. Tim Vezina arrived on Thursday and suited up to race with Bill on Friday morning, while Ponce planned his strategy to run the second lap and legally drive in the race car to the finish line as the driver of record. The wait seemed like an eternity for Ponce as he was anxious to get back into race car once again, but Carlos Orosco and the Baja Pits crew kept him cool with some Baja racing inside stories about shattered dreams about top racers and secrets involving peanut butter sandwiches. Hammering took its toll on the race car causing a fire, roll over carnage, tracker and radio failure, and finally leaving the team with no more throttle to keep going, literally:( This race gets harder every year. CONGRATS TO BILL AND TIM for a great effort. Bill Bridge and Tim Vezina raced until the rig failed 9miles into the second lap.
Its back to the drawing board for Bill to re-design and prep for other racing in 2012 with his wife Kristen and hometown teammate Tim. Ponce and Ragnar with the help of new and old partners have another plan for the next King of the Hammers race and it will be the first time anything like this will ever be attempted. Sorry cant give you any details on that yet, but their partners loved the new idea of continuing to run the whole Minority Co-Op Team concept with various pro drivers. Special thanx to everyone especially Casanova Motorsports, Master Pull, Scorpion Mezcal, Raceline Wheels, PRP Seats, FOA, KC Hi-Lites, Fred Riojas Towing for their outstanding support for this race. Interview and post race press releases coming soon. The venture continues as part of the team heads up north and the other back to Texas and then over seas. Briefly summarized you could say that this was a Pre-Qual to greater things to come for future Bongo! Live from Bongo Media Studios...
This post has been edited by WorldRallyTeam: 15 February 2012 - 12:02 PM
---
Posted 15 February 2012 - 11:08 AM
Click here to see how Scorpion Mezcal promoted King of the Hammers
http://www.scorpionm...g/index.php/en/
For all those who tried the drink of the gods, here is a link to see where you can pick up a bottle of the best mezcal in the world!
http://www.scorpionm...it/us-retailers
---
Posted 15 February 2012 - 11:18 AM
Photos taken by Holly Rush Waxler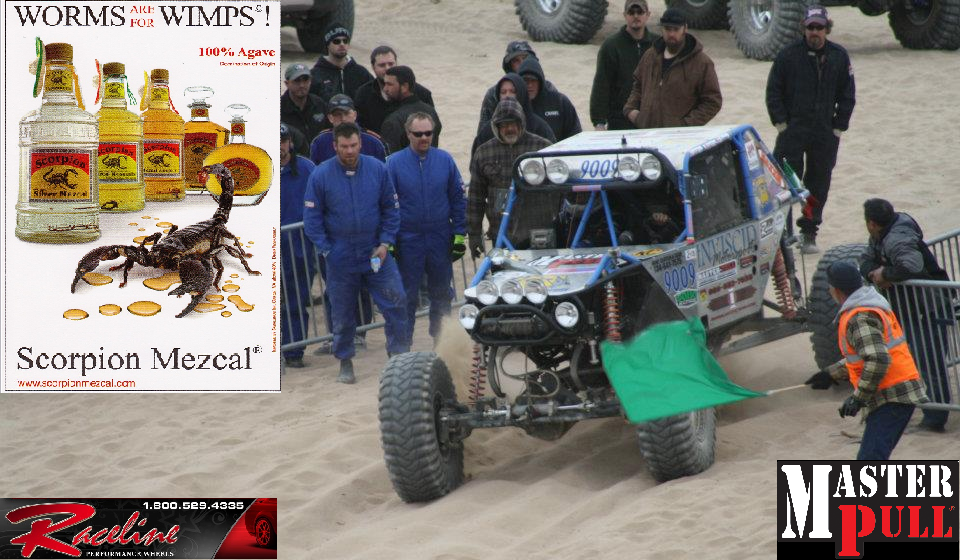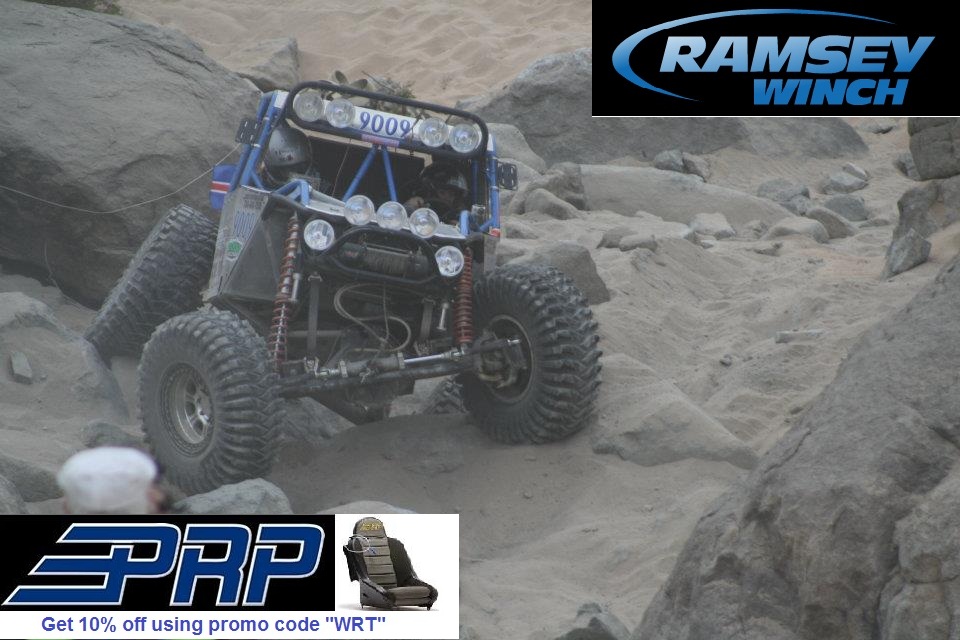 [url]http://worldrallyteam.tripod.com/king_of_the_hammers_2012_team_mexico_ponce_bridge/King_of_the_Hammers__Pole_Position_Race4.jpg[/url]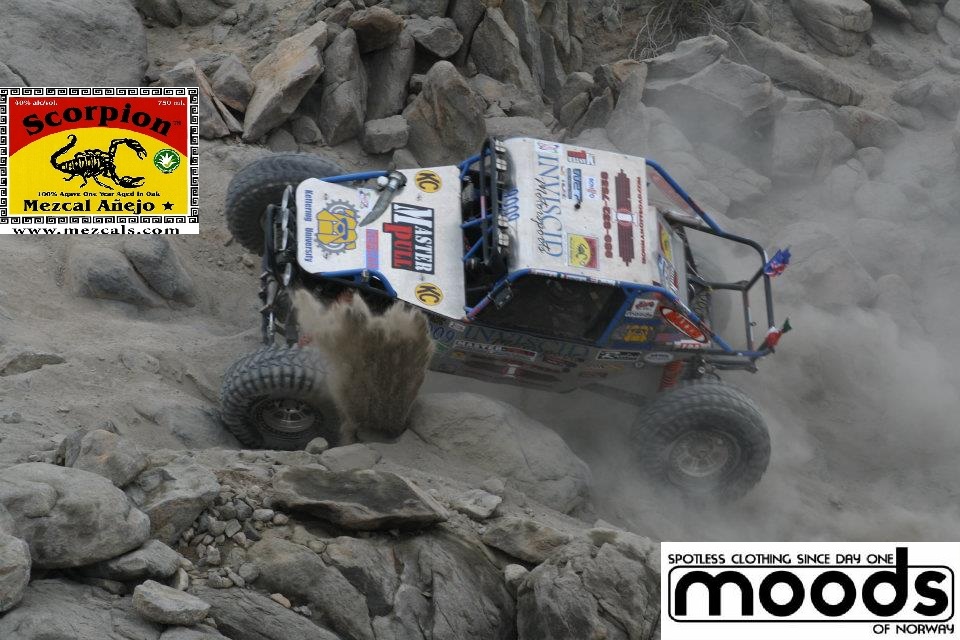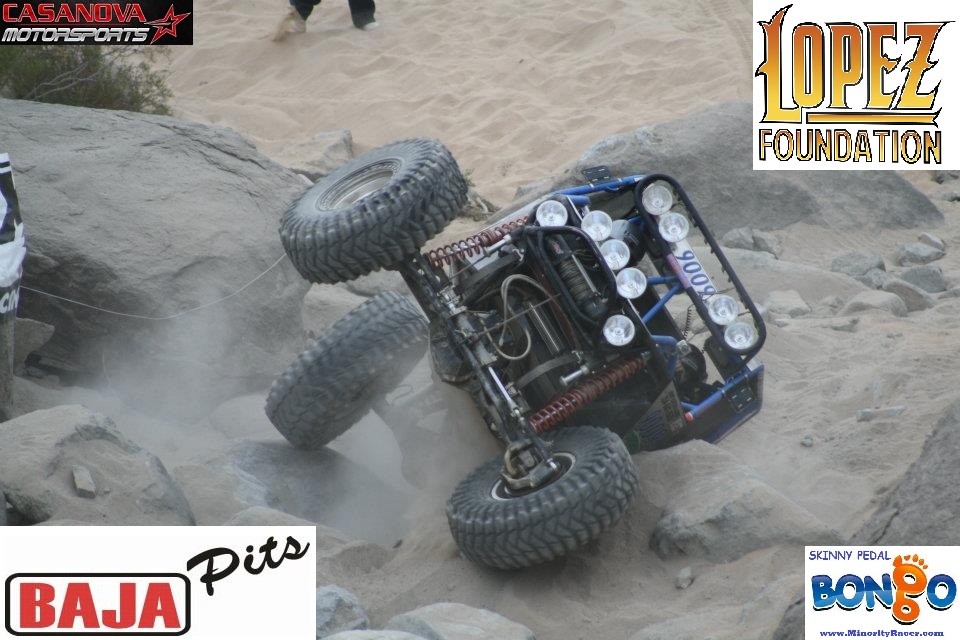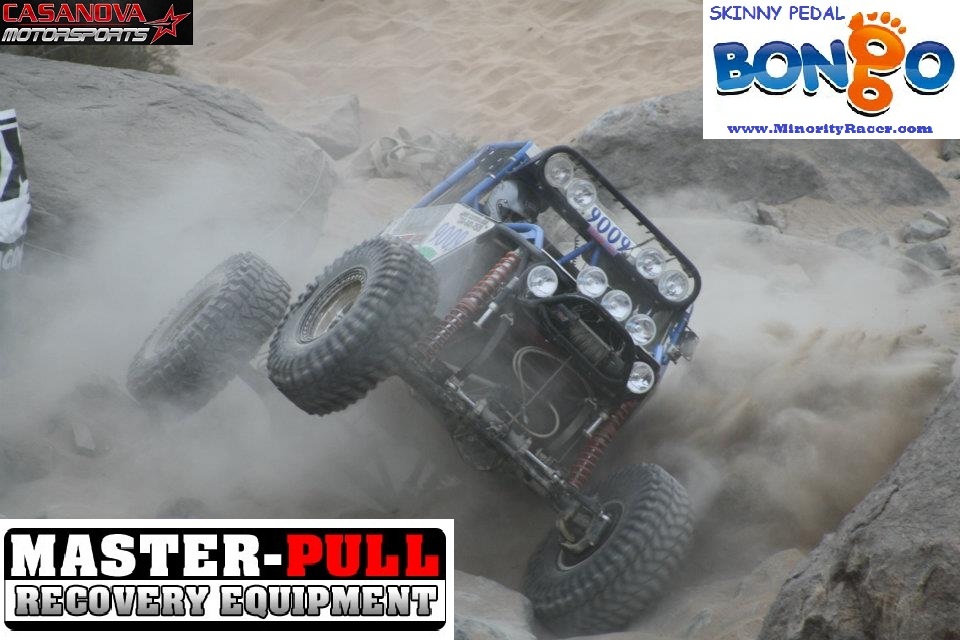 This post has been edited by WorldRallyTeam: 15 February 2012 - 11:19 AM
---
Posted 15 February 2012 - 11:19 AM
This race was BRUTAL!






---
Posted 28 March 2012 - 04:11 AM
This post has been edited by WorldRallyTeam: 28 March 2012 - 04:12 AM
---
Posted 28 March 2012 - 04:11 AM
If you've never heard of the infamous King of the Hammers off road race, you need to hit the books. The event is one of the most unique and intense races in the world and it is also one of the most physically demanding motorsport competitions ever devised. Breaking it down to the base elements, the race is a high speed desert run on both ends with a mountain you need to climb over in the middle. The vehicles are mostly tube chassis buggy-like machines that can run hard and soak up bumps in the flats and them climb over boulders the size of small homes. For the competitors, it is like living a violent car accident that lasts for six hours if you win and 12 hours if you are just too damned stubborn to give up.
Ever heard the one about the American guy, the Mexican guy, and the Icelandic guy who raced in the King of the Hammers?
This whole international mash up was dreamed up by Jose Manuel Ponce, a Mexican guy who has been involved in off road racing, rally racing, competitive rock crawling, and general automotive mischief for the better part of a decade now. Ponce is a bucks down racer who uses his brains and his hands to get where other teams do with their wallets. After competing in the King of the Hammers for the first time in 2009 in what can only be described as a humble Ford Bronco alias el Burro when compared to the other high zoot tube buggies, Ponce got his mental wheels turning on how to compete at a higher level on his smaller budget. The answer was to combine the talents and resources of several people, event those that are geographically spread out, to make the adventure work. This concept has been proven when he joined forces with Javier Ibarra and Dave Gutwillig to be the first Mexican American team to finish the King of the Hammers in 2011, by starting off and finishing in 37th spot.
"This event is as crazy as it sounds and everything you have heard about it is probably true," Ponce said with a laugh. "It is so hard to even get into, let alone compete at, just being able to say that you were there and your team was on the course is something. It takes am incredible amount of work on everyone's part to make this a reality and the fact we did it this year with Bill who is from Detroit, me from Mexico, and Ragnar who is Icelandic is amazing. Remember when countries teamed up for wars in the old days? This is the same concept but with racing!" War certainly seems to be a fitting way to describe this event, that is for sure.
"You learn new things every year and one of the things I learned was about how to prepare your body for the event," Ponce said. "You pass people on the side of the course throwing up and having other issues because of the violence involved in this race so there are some basic steps I take to prevent that, like eating a ton of cheese and peanut butter and jelly sandwiches before the race. That tends to stop things up pretty well. By the end of the race, if you even make it that far, your whole body hurts and is swollen, bruised, etc. It is the most intense thing going." We told you this is hard core.
The rigors on the vehicles are as intense as those on the driver and co-driver as many competitors find out. Robby Gordon'e entry blew up before making the rocks, along with a herd of other teams. Ponce's team fragged their buggy before making it to their remote pit station for a driver change that would have gotten Ponce into the seat, but to some level, it is to be expected. "Sure, it would have been great to drive the car across the finish line for the team, but it wasn't to be this year. Bill Bridges did an amazing job building the car and he's going to continue to improve and strengthen the design for next year. Being that the race is so violent and tough, breaking your car is almost part of the game," Ponce said.
Bridges is an engineer from Detroit, so there's lots of innovative thinking and invention going on with their machine. Check out the photos of the car/buggy at the bottom of this story to get a look. With the big tires and tube frame, it is a bad ###### looking piece. Ragnar is the Icelandic Formula Off Road champ and can be seen all over YouTube. Remember, the Formula Off Road guys are the ones who race up nearly vertical piles of volcanic ash, literally skim their jeeps and trucks over the tops of lakes, and virtually all of them have permanent indents in their thumb from the nitrous button! He's a perfect prototype for a driver in this type of racing with his ability to handle both high speeds and then the precision/angles of the rock crawling portion of the race.
While the team did not complete this year's event, they had several moral victories such as UROC Super Crawl 2006, KOH 2011 and WRC 2008 and 2010. They qualified really well with Bill at the wheel and Ponce in the co-driver's seat they started the race well and ran their equipment as hard as they could for as long as it lived. Being that this type of racing is an evolutionary process, they can evaluate what the mechanical issues were, repair and improve them for next year and be in even better shape. "We got in the race this year, made some noise, and had an amazing time," Ponce said. "The more we are there and the more noise we make, the more people are excited about our team because it is so unique to have three different countries represented in one group. We have some ideas on how to actually expand this idea for next year and going forward. We can have as many drivers as allowed, so long as I either start the race or finish it, per the KOH rules because I am the driver of record. In the middle, we could break the whole thing into sections and allow people to drive 40-50 miles at a time or something. It would be great to have a whole international team made up of people from across the world all taking their part of the glory."
Ultimately, Ponce and the guys want to run Dakar on a shoestring budget and have more fun than anyone else. We'd say that Dakar is the ultimate test of man and off-road machine on Earth. The sheer length of the race and the multitude of terrains encountered make it unlike anything else on the planet. Ponce told us, "I have a lot of friends in South America and we have a Jeep that we're going to use as the basis of the Dakar entry. Our ultimate goal is to enter and finish that race."
If anyone else told us that we'd call them nuts and recommend they find a new hobby before killing themselves. With Ponce, we're not only sure that they'll run Dakar at some point, we're pretty sure that they'll blow teams away with far larger budgets and more resources. These guys from three different countries are certainly some of the hardest core gearheads we have ever heard of and their antics are 100% True Underdog Minority Racers!
This post has been edited by WorldRallyTeam: 06 May 2014 - 04:03 AM
---
Share this topic:
---
1 User(s) are reading this topic

0 members, 1 guests, 0 anonymous users